Trama
Titolo originale: The King's Man
Regia: Matthew Vaughn
Cast: Gemma Arterton, Matthew Goode, Aaron Taylor-Johnson, Ralph Fiennes, Tom Hollander, Djimon Hounsou, Harris Dickinson, Stanley Tucci, Rhys Ifans, Daniel Brühl, Charles Dance, Alexandra Maria Lara, Ross Anderson, Neil Jackson, Alison Steadman, Branka Katic, Robert Aramayo, Olivier Richters, Joel Basman, Pierre Bergman, Jessie Vinning, Constantine Gregory, Maja Simonsen, Paul Philip Clark, Simon Connolly
Genere: Azione, Avventura, colore
Durata: 131 minuti
Produzione: USA, 2020
Distribuzione: 20th Century Fox
Data di uscita: n/d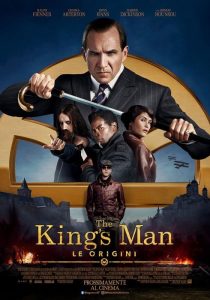 Tornano le spie britanniche più eleganti del cinema, in nuove missioni al servizio della Regina. A sconcertare i fan del franchise-action è la probabile grande assenza di Taron Egerton.
The King's Man – Le origini: il grande ritorno
"The King's Man – Le origini" è basato sul Comic Book "The Secret Service" di Mark Millar e Dave Gibbons e segue le vicende legate alle origini dell'agenzia di intelligence indipendente denominata Kingsman.
Protagonista della storia è un uomo che dovrà cercare di fermare in tutti i modi un gruppo di tiranni, tra i peggiori  mai esistiti, alleati tra loro per mettere in piedi una guerra senza precedenti che potrebbe provocare la morte di milioni di persone.
Il fascino d'oltremanica colpisce ancora
La saga cinematografica ha esordito nel 2014 con "Kingsman – The Secret Service", suscitando immediatamente un grande successo di pubblico e 414,4 milioni di dollari al botteghino. Il secondo capitolo, "Kingsman – Il cerchio d'oro", è stato distribuito nelle sale nel 2017, riscuotendo 410,9 milioni di dollari. Colin Firth vestirà ancora una volta i panni dell'agente gentiluomo Harry Hart, che però non potrà contare sul suo promettente allievo Eggsy. "Kingsman" ha rappresentato un importante trampolino di lancio per il giovane attore britannico, che ora si trova impegnato in diverse e attese produzioni, tra cui il biopic su Elton John "Rocketman" e "Robin Hood – l'origine della leggenda".
Trailer
Secondo Trailer italiano
---
Primo Trailer italiano