Biografia
Marisa Tomei, attrice nata a New York ma di origine italiana, è stata candidata più di una volta ai premi Oscar
Marisa Tomei, l'amante del wrestler
(New York City, 4 dicembre 1964)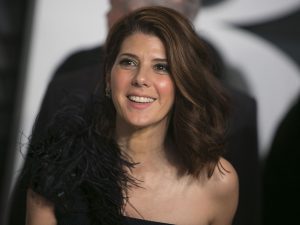 Italoamericana DOC, Marisa Tomei è nata a New York il 4 dicembre del 1964. Figlia di Patricia, insegnante d'inglese, e Gary, avvocato, studia dizione fin da bambina e si dedica alla danza, al teatro e alla recitazione prima alla Boston University e poi alla Mark Twain JHS for the Gifted & Talented.
Dal 1983 al 1985 viene chiamata ad interpretare il ruolo della coprotagonista nella soap opera "As the World Turns", ma il debutto cinematografico vero e proprio è del 1984, con "Flamingo Kid", nel quale pronuncia una sola battuta. Ciononostante, l'impressione è ottima e Marisa continua a lavorare prima per "I Robinson" e poi per "Denise", uno spin-off della serie. Sarà poi nel cast di "Playing for Keeps" (1986) e "Oscar –Un fidanzato per due figlie" (1991).
Marisa Tomei, il debutto e la scala verso il successo
Gli anni '90 segnano anche la prima apparizione nel film erotico "Zandalee" (1991), dopodiché l'attrice preferisce ruoli a lei più consoni, come in "Charlot" (1992), accanto al bravissimo Robert Downey Jr. e "Mio cugino Vincenzo" (1992) di Jonathan Lynn, una commedia che sarà il suo più grande successo e che le varrà l'Oscar come Miglior Attrice non Protagonista. Purtroppo, i lavori che seguono non sono altrettanto fortunati: "Equinox" (1993), "Only You – Amore a prima vista" (1994), "Cronisti d'assalto" (1994), "Famiglia Perez" (1995), "Una donna molto speciale" (1996), "Benvenuti a Sarajevo" (1997) e il più fortunato "What Women Want" (2000).
Sceglie di aprire il nuovo millennio lasciando il fidanzato Dana Ashbrook ed intrecciando una relazione con Frank Pugliese: decisione probabilmente di rinascita anche artistica, tanto da ispirarla per "In the Bedroom" (2001), che le regala la nomination all'Oscar e al Golden Globe come Miglior Attrice non Protagonista.
Marisa Tomei, le commedie tanto amate
Continua ad amare le commedie, tanto da prender parte a "Qualcuno come te" (2001) e "Terapia d'urto" (2002), "Alfie" (2004) e "Svalvolati on the road" (2007), oltre al drammatico "Factotum" (2005) e al doppiaggio di varie puntate dei "Simpson".
Nel 2008 è diretta da Darren Aronofsky in "The Wrestler", Leone d'Oro al Festival di Venezia, e recita in "War, Inc." con John Cusack e Ben Kingsley. Inoltre, si dedica da anni e con maggiore successo e passione al teatro, dove lavora insieme alla Naked Angles Theater Company ed al Blue Light Theater Company di New York.
Il 2010 la vede impegnata in "Cyrus", in cui interpreta una madre che ha un rapporto molto particolare col proprio figlio, ed in "Salvation Boulevard", diretta da George Ratliff.
In "The Lincoln Lawyer" di Brad Furman interpreta l'ex moglie del protagonista, uno spietato avvocato di Los Angeles. Veste poi i panni di professoressa single e frustrata che seduce Steve Carell in un bar nella commedia "Crazy, Stupid, Love" di Glenn Ficarra e John Requa.
Nel 2011 è invece una spietata giornalista che cerca di incastrare Ryan Gosling in "Le idi di marzo" diretto e interpretato da George Clooney. L'anno dopo la troviamo in "Inescapable", dramma ambientato a Damasco, diretto da Ruba Nadda e nella commedia "Parental Guidance" di Andy Fickman.  Nel 2014 ha una parte in "I toni dell'amore – Love Is Strange" e nel 2015 ne "La grande Scommessa".
Nel 2016, con "Captain America: Civil War" e "Spiderman: Homecoming" entra ufficialmente nel Marvel Cinematic Universe, in cui interpreta Zia May, la zia di Peter Parker/Spiderman, la più giovane attrice a rivestire a questo ruolo.
Claudia Resta
Filmografia
Marisa Tomei Filmografia – Cinema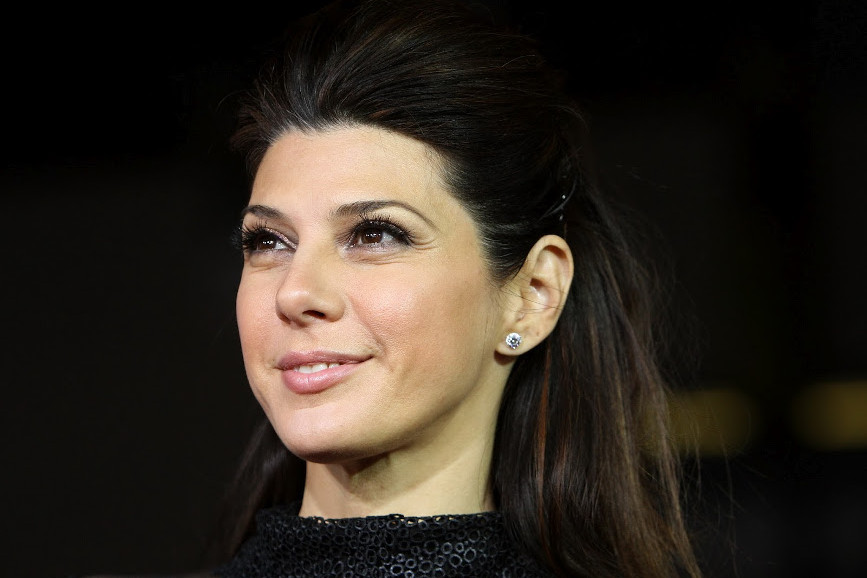 Il vendicatore tossico, regia di Lloyd Kaufman e Michael Herz (1984)
Flamingo Kid, regia di Garry Marshall (1984)
Rock Hotel Majestic, regia di Bob Weinstein e Harvey Weinstein (1986)
Oscar – Un fidanzato per due figlie, regia di John Landis (1991)
Zandalee, regia di Sam Pillsbury (1991)
Mio cugino Vincenzo, regia di Jonathan Lynn (1992)
Equinox, regia di Alan Rudolph (1992)
Charlot, regia di Richard Attenborough (1992)
Qualcuno da amare, regia di Tony Bill (1993)
Cronisti d'assalto, regia di Ron Howard (1994)
Only You – Amore a prima vista, regia di Norman Jewison (1994)
La famiglia Perez, regia di Mira Nair (1995)
Four Rooms, regia di Allison Anders, Quentin Tarantino, Robert Rodríguez e Alexandre Rockwell (1995)
Una donna molto speciale, regia di Nick Cassavetes (1996)
A Brother's Kiss, regia di Seth Zvi Rosenfeld  (1997)
Benvenuti a Sarajevo, regia di Michael Winterbottom (1997)
L'altra faccia di Beverly Hills, regia di Tamara Jenkins (1998)
Dirk and Betty, regia di Robert Bauer, Paul Gordon (1999)
Happy Accidents, regia di Brad Anderson (2000)
The Watcher, regia di Joe Charbanic (2000)
King of the Jungle, regia di Webster Cullison (2000)
What women want – Quello che le donne vogliono, regia di Nancy Meyers (2000)
In the Bedroom, regia di Todd Field (2001)
Qualcuno come te, regia di Tony Goldwyn (2001)
Just a Kiss, regia di Fisher Stevens  (2002)
Il guru, regia di Daisy von Scherler Mayer (2002)
Terapia d'urto, regia di Peter Segal (2003)
Alfie, regia di Charles Shyer (2004)
Loverboy, regia di Kevin Bacon (2005)
Ballroom dancing, regia di Randall Miller (2005)
Factotum, regia di Bent Hamer (2005)
Svalvolati on the road, regia di Walt Becker (2007)
Onora il padre e la madre, regia di Sidney Lumet (2007)
War, Inc., regia di Joshua Seftel (2008)
The Wrestler, regia di Darren Aronofsky (2008)
Cyrus, regia di Jay Duplass e Mark Duplass (2010)
The Lincoln Lawyer, regia di Brad Furman (2011)
Crazy, Stupid, Love, regia di Glenn Ficarra e John Requa (2011)
Le idi di marzo, regia di George Clooney (2011)
Inescapable, regia di Ruba Nadda (2012)
Parental Guidance, regia di Andy Fickman (2012)
I toni dell'amore – Love Is Strange (Love Is Strange), regia di Ira Sachs (2014)
Professore per amore (The Rewrite), regia di Marc Lawrence (2014)
Un disastro di ragazza (Trainwreck), regia di Judd Apatow (2015)
La grande scommessa (The Big Short), regia di Adam McKay (2015)
Natale all'improvviso (Love the Coopers), regia di Jessie Nelson (2015)
Captain America: Civil War, regia di Anthony e Joe Russo (2016)
Spider-Man: Homecoming, regia di Jon Watts (2017)
Marisa Tomei Filmografia – Televisione
Così gira il mondo (2 episodi, 1984) – Soap opera
Tutti al college (1987-1988) – Serie TV
Parker Kane (1990) – Film TV
My Own Country (1998) – Film TV
Da quando te ne sei andato (Since You've Been Gone), regia di David Schwimmer (1998) – Film TV
Only Love, regia di John Erman – Film TV (1998)
Rescue Me – serie TV, 4 episodi (2006)
Empire – serie TV, 4 episodi (2015)