Titolo originale: Back to the future
Regia: Robert Zemeckis
Cast: Michael J. Fox, Christopher Lloyd, Lea Thompson, Crispin Glover, Thomas F. Wilson, Claudia Wells, Marc McClure, Wendie Jo Sperber, George DiCenzo, Frances Lee McCain, James Tolkan, J.J. Cohen, Casey Siemaszko, Billy Zane, Harry Waters Jr
Genere: Fantastico
Durata: 116 minuti
Produzione: USA, 1985
Distribuzione: Nexo Digital
"Ritorno al futuro": una sceneggiatura da Oscar per il film definitivo sul viaggio nel tempo.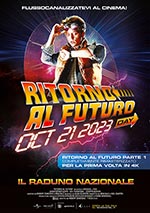 Marty McFly è un ragazzo di diciassette anni, ha una ragazza di cui è innamorato e una famiglia non particolarmente vivace.
George McFly, il padre di Marty, ha paura persino della propria ombra, mentre la madre,  Lorraine Baines McFly, trascorre le proprie giornate senza voglia e senza alcuna ambizione nei propri riguardi e verso i propri figli.
Marty è un grande amico di "Doc" Emmett L. Brown, uno scienziato solitario che sostiene di aver inventato una macchina del tempo e di averla costruita modificando una vecchia DeLorean. Dopo un agguato da parte dei libici, Marty scappa dai suoi assalitori con la DeLorean scoprendo che le teorie di Doc sono vere. Marty si ritroverà improvvisamente catapultato nel 1955 e farà conoscenza con i suoi genitori, che non sembrano proprio destinati a formare una coppia.