(Pirates of the Caribbean: on Stranger Tides) Regia: Rob Marshall – Cast: Johnny Depp, Penelope Cruz, Ian McShane, Geoffrey Rush, Óscar Jaenada, Kevin McNally, Stephen Graham, Sam Claflin, Gemma Ward, Greg Ellis, Astrid Berges-Frisbey, Bronson Webb, John Bryant Davila, Richard Thompson, Christopher Fairbank, Paul Bazely, Juan Carlos Vellido – Genere: Azione, colore, 141 minuti – Produzione: USA, 2011 – Distribuzione: Walt Disney – Data di uscita: 18 maggio 2011.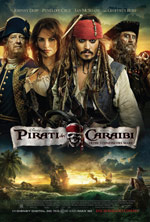 L'intraprendente Capitan Sparrow, insieme al Capitano Barbarossa, solcherà i sette mari alla ricerca della famigerata fontana dell'eterna giovinezza.
Si apre così la seconda trilogia della fortunata serie di film, che ha davvero trovato in Johnny Depp l'elisir di lunga vita.