(The Girl with the Dragon Tattoo) Regia: David Fincher – Cast: Rooney Mara, Daniel Craig, Stellan Skarsgård, Robin Wright, Christopher Plummer, Joely Richardson, Steven Berkoff, David Dencik – Genere: Drammatico, colore, 160 minuti – Produzione: USA, 2011 – Distribuzione: Sony Pictures – Data di uscita: 3 febbraio 2012.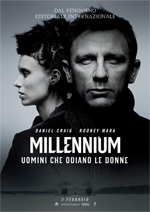 Sono trascorsi quarant'anni e un alone di mistero avvolge ancora la scomparsa della nipote di un ricco capitalista, Harriet Ranger.
L'uomo decide di rivolgersi al noto giornalista Mikael Blomkvist per avviare le ricerche e sarà affiancato da Lisbeth Salander, una giovane hacker. I due arriveranno all'incredibile verità.