(The Shawshank Redemption) Regia: Frank Darabont – Cast: Tim Robbins, Morgan Freeman, Bob Gunton, William Sadler, Clancy Brown, Gil Bellows, Mark Rolston, Jeffrey DeMunn, Larry Brandenburg, Neil Giuntoli, Brian Libby, David Proval, Joseph Ragno, Jude Ciccolella, James Whitmore – Genere: Drammatico, colore, 140 minuti –Produzione: USA, 1994 – Distribuzione: Castle Rock Entertainment.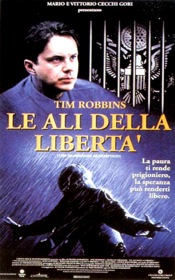 1946. Un direttore di banca, Andy Dufresne, deve scontare due ergastoli nel carcere di Shawshank per l'uccisione della moglie e del suo amante. All'interno della prigione riesce a sopravvivere grazie all'amicizia con un ergastolano nero.
Tratto dal racconto "Rita Hayworth and the Shawshank Redemption" di Stephen King.