(Wrath of the Titans) Regia: Jonathan Liebesman – Cast: Sam Worthington, Gemma Arterton, Liam Neeson, Edgar Ramirez, Ralph Fiennes, Toby Kebbell, Rosamund Pike, Bill Nighy – Genere: Azione, colore, 99 minuti – Produzione: USA, 2012 – Distribuzione: Warner Bros Italia – Data di uscita: 30 marzo 2012.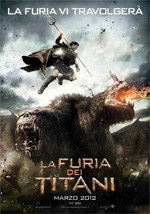 Perseo, l'eroe greco, si avvia a vivere una vita tranquilla al borgo dei pescatori in compagnia del figlioletto di dieci anni Helius.
Gli Dei non riescono a contrastare la forza dei Titani il cui capo Kronos tenta di sovrastare Zeus. L'inferno scenderà sulla terra e spetterà a Perseo salvare Zeus e l'umanità.