(Lord of the Rings: The Fellowship of the Ring) Regia: Peter Jackson – Cast: Elijah Wood, Ian McKellen, Ian Holm, Christopher Lee, Liv Tyler, Sean Bean, Cate Blanchett, Sean Astin, Orlando Bloom, Billy Boyd, Dominic Monaghan, Viggo Mortensen, John Rhys-Davies, Andy Serkis, Hugo Weaving – Genere: fantasy, colore, 178 minuti – Produzione: USA, Nuova Zelanda, 2001, New Line Cinema, The Saul Zaentz Company, WingNut Films – Distribuzione: Medusa.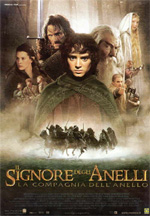 In un piccolo villaggio nella Contea, un giovane hobbit chiamato Frodo, viene in possesso di un antico anello dotato di straordinari ma pericolosi poteri.
L'anello dev'essere distrutto, ma è possibile farlo solo nel luogo dove è stato forgiato. Frodo si offre volontario. Dovrà intraprendere un'epica avventura per salvare il mondo contro le forze del male.