Dennis Hopper, attore, regista e anche sceneggiatore americano, è noto ai più come un giovane ribelle, al fianco di James Dean, in "Gioventù bruciata" (1955).
Dennis Hopper, il centauro ribelle di Hollywood
(Dodge City, Kansas, 17 maggio 1936 - Venice, California, 29 maggio 2010)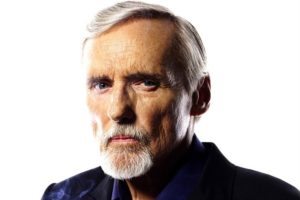 È l'indimenticabile compagno di viaggio di Captain America in "Easy Rider"; i suoi rapporti con Hollywood non sono mai stati dei più felici e negli ultimi tempi Dennis Hopper per il piccolo schermo ha interpretato un cinico produttore discografico nello spin off del film di Paul Haggis "Crash" (2008 - 2009).
Personaggio anarcoide, "born to be wild", con eterni problemi di dipendenze varie, che ha collezionato ben cinque mogli, Dennis Hopper ha incarnato la ribellione della Beat Generation e ne ha cavalcato i sogni.
Hopper nasce il 17 maggio del 1936 a Dodge City in Kansas; città che lascia da adolescente con la famiglia per andare in California. Nel 1954 ha un piccolo ruolo in "Johnny Guitar" di Nicholas Ray e l'anno dopo fa parte del cast di "Gioventù bruciata", il film che consacra James Dean, ancora diretto da Nicholas Ray. Con James Dean, Dennis lavorerà ancora nella pellicola di George Stevens "Il gigante" del 1956. Messo sotto contratto dalla Warner Bros, dopo aver rotto con loro si trasferisce a New York per studiare all'Actor's Studio.
Per dieci anni, l'attore recita in produzioni di serie B, anche a causa dei primi problemi di tossicodipendenza e alcolismo. Degno di nota, tra le pellicole di quel periodo "Nick mano fredda" (1967) di Stuard Rosemberg con Paul Newman, un vero e proprio inno alla libertà.
Dennis Hopper non solo attore
È proprio su questa linea che, nel 1969, Hopper con l'amico Peter Fonda e Terry Southern scrive il copione di "Easy Rider", da lui stesso diretto e interpretato. Il film costa solo centomila dollari e diventa il road movie della controcultura americana.
Ha una colonna sonora da urlo e lancia uno sconosciuto Jack Nicholson, tra immagini lisergiche e sogni di libertà spezzati dalla vecchia America. Premiato al 22° Festival di Cannes come Miglior Opera Prima, si aggiudica due nomination all'Oscar.
Non va altrettanto bene la sua seconda prova registica "Fuga da Hollywood" del 1971 con Peter Fonda nel cast. Wim Wenders, lo dirige nel film "L'amico americano" nel 1977, in una storia sulla morte e sull'amicizia virile, che ricorda molto le atmosfere dei quadri di Edward Hopper.
Successivamente prende parte al capolavoro di Coppola "Apocalypse Now" (1979), dove è uno stralunato reporter Usa al seguito di Kurz. Per lo stesso regista, nel 1983 sarà il padre alcolizzato di due fratelli interpretati da Matt Dillon e Mickey Rourke nel bellissimo "Rusty il selvaggio". Nel frattempo torna dietro la camera da presa per il controverso "Out of the Blue" (1980), drammatico ritratto di una famiglia alla deriva.
Con il visionario David Lynch, Dennis Hopper è un gangster drogato e sadico che tormenta una fragile Isabella Rossellini in "Velluto Blu" (1986). È un'interpretazione da manuale, che gli vale una nomination ai Golden Globe.
È del 1988 il ritorno alla regia con "Colors – Colori di guerra" con Sean Penn e Robert Duvall, che racconta con toni crudi la guerra tra bande a L.A., molto ben accolto da critica e pubblico. Mentre ha una storia travagliatissima "Ore contate" (1989), thriller con cast stellare diretto da Hopper con lo pseudonimo di Alan Smithee.
Don Johnson, nei panni di un bel vagabondo che vaga senza apparente ragione in Texas è il protagonista principale di "The Hot spot" del 1990, diretto anche questo da Hopper, con uno stile che richiama il videoclip. Gli anni '90 lo vedono in gran forma, da "Lupo solitario" del 1991, opera prima del ragazzaccio Sean Penn, passando per "Una vita al massimo" (1993) di Tony Scott, fino a "Speed" (1994).
Hopper è un pazzo criminale, che si vuole vendicare dei torti subiti mettendo una bomba su un pullman. Saranno Sandra Bullock e Keanu Reeves a sconfiggerlo.
Naufragio in diversi generi
Nel 1994, il nostro si diverte a dirigere per la prima volta una commedia; "Bionda sotto scorta" non perfettamente riuscita, a riprova del fatto che non è questo il suo genere. La partecipazione a "Waterword" (1995), colossal di Kevin Reynold con Kevin Costner, vale a Hopper nel 1996 un Razzie Awards come Peggior Attore non Protagonista.
Talento eclettico, Hopper è anche pittore e fotografo e recita nel 1996 nel film ispirato all'artista di pop art Basquiat del regista Julian Schnabel. Segue l'anno dopo il discusso e osteggiato dalla censura "Blackout" di Abel Ferrara. Gli anni successivi vedono Hopper in diversi film d'orrore e azione tra cui "La terra dei morti viventi" (2005) di Romero.
Nel 2008, Dennis Hopper è diretto da Wim Wenders nel confuso "Palermo Shooting" ed è tra i protagonisti di "Lezioni d'amore" di Isabelle Coixet, con una splendida Penelope Cruz. Seppur non accolto benissimo dalla critica, la serie televisiva tratta da "Crash" regala ai suoi fans di sempre un personaggio duro, misantropo e violento, molto sopra le righe e immerso nella sua solitudine ma ancora con il vecchio joint dei tempi di "Easy rider" in bocca… In fondo il vecchio leone non è cambiato molto!
Nel 2010, dopo aver contratto un cancro alla prostata, Dennis Hopper si spegne a Los Angeles all'età 74 anni.
Ivana Faranda
Dennis Hopper Filmografia - Cinema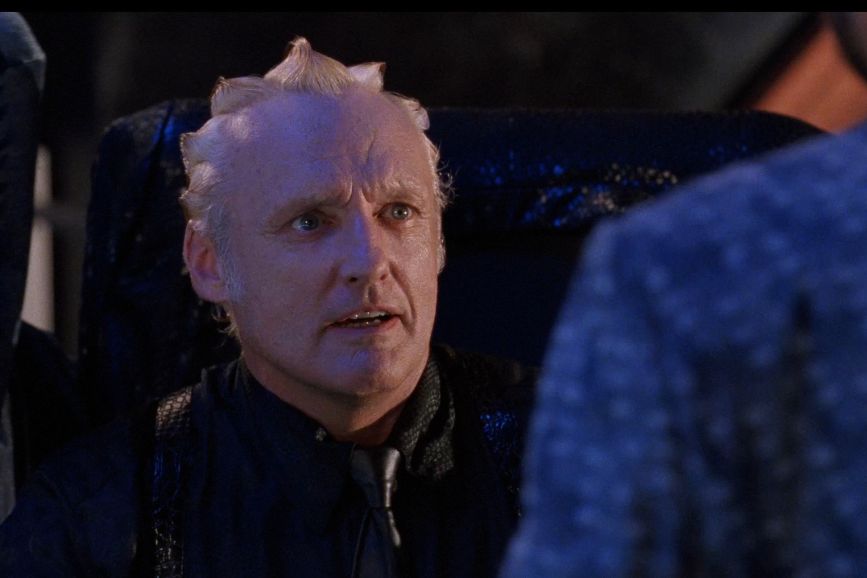 Gioventù bruciata, regia di Nicholas Ray (1955)
Tutto finì alle sei, regia di Stuart Heisler (Non accreditato) (1955)
Il gigante, regia di George Stevens (1955)
Sfida all'O.K. Corral, regia di John Sturges (1957)
L'inferno ci accusa, regia di Hendrik Willem van Loon (1957)
Sayonara, regia di Joshua Logan (Solo voce) (1955)
L'uomo che non voleva uccidere, regia di Henry Hathaway (1958)
Là dove il sole brucia, regia di Ted Tetzlaff (1959)
Il cerchio della violenza, regia di Phil Karlson (1960)
Night Tide, regia di Curtis Harrington (1961)
The Thirteen Most Beautiful Boys, regia di Andy Warhol (1964)
Tarzan and Jane Regained... Sort of, regia di Andy Warhol (1964)
I 4 figli di Katie Elder, regia di Henry Hathaway (1965)
Queen of Blood, regia di Curtis Harrington (1966)
Il serpente di fuoco, regia di Roger Corman (1967)
Nick mano fredda, regia di Stuart Rosenberg (1967)
Anime nere, regia di Anthony M. Lanza (1968)
Impiccalo più in alto, regia di Ted Post (1968)
Panic in the City, regia di Eddie Davis (1968)
Sogni perduti, regia di Bob Rafelson (1968)
Easy Rider, regia di Dennis Hopper (1969)
Il grinta, regia di Henry Hathaway (1969)
Fuga da Hollywood, regia di Dennis Hopper (1971)
L'altra faccia del vento, regia di Orson Welles (1972)
Crush Proof, regia di François De Menil (1972)
Kid Blue, regia di James Frawley (1973)
Mad Dog Morgan, regia di Philippe Mora (1976)
Tracks - lunghi binari della follia, regia di Henry Jaglom (1977)
L'amico americano, regia di Wim Wenders (1977)
Les apprentis sorciers, regia di Edgardo Cozarinsky (1977)
Couleur chair, regia di François Weyergans (1978)
CIA contro KGB, regia di Claude d'Anna (1978)
Apocalypse Now, regia di Francis Ford Coppola (1979)
Las flores del vicio, regia di Silvio Narizzano (1979)
Snack bar blues, regia di Dennis Hopper (1980)
Reborn, regia di Bigas Luna (1981)
Bolidi nella notte, regia di Noel Nosseck (1981)
Neil Young: Human Highway, regia di Dean Stockwell e di Neil Young (1982)
Rusty il selvaggio, regia di Francis Ford Coppola (1983)
Osterman Weekend, regia di Sam Peckinpah (1983)
White Star, regia di Roland Klick (1983)
La talpa, regia di Tom Clegg (1984)
Euer Weg führt durch die Hölle, regia di Ernst R. von Theumer (1984)
A Hero of Our Time, regia di Michael Almereyda (1985)
Non giocate con il cactus, regia di Robert Altman (1985)
Ritorno alla quarta dimensione, regia di Jonathan R. Betuel (1985)
American Way - I folli dell'etere, regia di Maurice Phillips (1986)
Non aprite quella porta - Parte 2, regia di Tobe Hooper (1986)
I ragazzi del fiume, regia di Tim Hunter (1986)
Velluto blu, regia di David Lynch (1986)
Colpo vincente, regia di David Anspaugh (1986)
Running Out of Luck, regia di Julien Temple (1987)
La vedova nera, regia di Bob Rafelson (1987)
Diritti all'inferno, regia di Alex Cox (1987)
Ehi... ci stai?, regia di James Toback (1987)
Legami di sangue, regia di Peter Masterson (1989)
Chattahoochee, regia di Mick Jackson (1989)
Flashback, regia di Franco Amurri (1990)
Ore contate, regia di Dennis Hopper, Alan Smith 1990)
Eye of the Storm, regia di Yuri Zelter (1991)
Il cuore nero di Paris Trout, regia di Stephen Gyllenhaal (1991)
Lupo solitario, regia di Sean Penn (1991)
Viaggio all'inferno, regia di (1991)
Sunset Heat, regia di John Nicolella (1992)
Limite estremo, regia di James B. Harris (1993)
Super Mario Bros., regia di Rocky Morton (1993)
Red Rock West, regia di John Dahl (1993)
Una vita al massimo, regia di Tony Scott (1993)
Una bionda sotto scorta, regia di Dennis Hopper (1994)
Speed, regia di Jan de Bont (1994)
Cerca e distruggi, regia di David Salle (1995)
Waterworld, regia di Kevin Reynolds (1995)
Giorni di passione, regia di Bruno Barreto (1996)
Space Truckers, regia di Stuart Gordon (1996)
Basquiat, regia di Julian Schnabel (1996)
Uomini spietati, regia di Peter Markle (1996)
Sansone e Dalila, regia di Nicolas Roeg (1996)
Sulle tracce del testimone, regia di Rick King (1997)
The Blackout, regia di Abel Ferrara (1997)
The Good Life, regia di Alan Mehrez (1997)
Il casinò della paura, regia di Sidney J. Furie (1998)
Superfusi di testa, regia di Steve Boyum 1998)
Bad City Blues, regia di Michael Stevens (1999)
The Venice Project, regia di Robert Dornhelm (1999)
Jesus' Son, regia di Alison Maclean (1999)
Straight Shooter, regia di Thomas Bohn (1999)
Edtv, regia di Ron Howard (1999)
The Prophet's Game, regia di David Worth (1999)
Lured Innocence, regia di Kikuo Kawasaki (1999)
Held for Ransom, regia di Lee Stanley (2000)
Ossessione demoniaca, regia di William Gove (2000)
Gli implacabili, regia di Luca Bercovici (2000)
Sulle tracce del serial killer, regia di Derek Vanlint (2000)
L.A.P.D. Linea spezzata, regia di Ed Anders (2001)
Compagnie pericolose, regia di Brian Koppelman (2001)
Choke, regia di John Sjogren (2001)
Ticker - Esplosione finale, regia di Albert Pyun (2001)
L'incendiaria, regia di Robert Iscove (2002)
The Piano Player, regia di Jean-Pierre Roux (2002)
Leo, regia di Mehdi Norowzian (2002)
Unspeakable, regia di Thomas J. Wright (2002)
The Night We Called It a Day, regia di Paul Goldman (2003)
Out of Season, regia di Jevon O'Neill (2004)
The Keeper, regia di Paul Lynch (2004)
Legacy, regia di Bo Svenson (2004)
La terra dei morti viventi, regia di George A. Romero (2005)
Il corvo 4 - Preghiera maledetta, regia di Lance Mungia (2005)
Americano, regia di Kevin Noland (2005)
House of 9, regia di Steven R. Monroe (2005)
Hoboken Hollow, regia di Glen Stephens (2005)
Frank Gehry - Creatore di sogni, regia di Sydney Pollack (2005)
Memory, regia di Bennett Davlin (2006)
10th & Wolf, regia di Robert Moresco (2006)
An American Carol, regia di David Zucker (2008)
Palermo Shooting, regia di Wim Wenders (2008)
Swing Vote - Un uomo da 300 milioni di voti, regia di Joshua Michael Stern (2008)
Lezioni d'amore, regia di Isabel Coixet (2008)
Sleepwalking, regia di Bill Maher (2008)
Hell Ride, regia di Larry Bishop (2008)
Alpha and Omega, regia di Anthony Bell e di Ben Gluck (2010)
Dennis Hopper Filmografia - Televisione
Letter to Loretta (Serie TV, 1 episodio) (1955)
The Public Defender (Serie TV, 1 episodio) (1955)
Medic (Serie TV, 1 episodio) (1955)
The Kaiser Aluminum Hour (Serie TV, 1 episodio) (1956)
Screen Directors Playhouse (Serie TV, 1 episodio) (1956)
Kings Row (Serie TV, 1 episodio) (1956)
Cheyenne (Serie TV, 3 episodi) (1956-1957)
Sugarfoot (Serie TV, 1 episodio) (1957)
Conflict (Serie TV, 2 episodi) (1957)
Pursuit (Serie TV, 1 episodio) (1958)
Swiss Family Robinson, regia di William A. Graham (Film TV) (1958)
Studio One (Serie TV, 2 episodi) (1958)
The Rifleman (Serie TV, 2 episodi) (1958-1959)
I racconti del West (Serie TV, 2 episodi) (1958-1959)
The Lineup (Serie TV, 1 episodio) (1959)
The Barbara Stanwyck Show (Serie TV, 1 episodio) (1960)
The Millionaire (Serie TV, 1 episodio) (1960)
The Betty Hutton Show (Serie TV, 1 episodio) (1960)
The Investigators (Serie TV, 1 episodio) (1961)
87ª squadra (87th Precinct) (Serie TV, 1 episodio) (1961)
La città in controluce (Naked City) (Serie TV, 1 episodio) (1961)
Surfside 6 (Serie TV, 1 episodio) (1962)
General Electric Theater (Serie TV, 1 episodio) (1962)
La parola alla difesa (Serie TV, 2 episodi) (1962-1963)
The Greatest Show on Earth (Serie TV, 1 episodio) (1963)
Missione segreta (Serie TV, 1 episodio) (1963)
Carovane verso il West (Serie TV, 1 episodio) (1963)
Dakota (Serie TV, 1 episodio) (1963)
Ai confini della realtà (The Twilight Zone) (Serie TV, 1 episodio) (1963)
Bonanza (Serie TV, 1 episodio) (1964)
The Lieutenant (Serie TV, 1 episodio) (1964)
Sotto accusa (Serie TV, 1 episodio) (1964)
Petticoat Junction (Serie TV, 1 episodio) (1964)
Convoy (Serie TV, 1 episodio) (1965)
Gunsmoke (Serie TV, 1 episodio) (1965)
Kronos - Sfida al passato (Serie TV, 1 episodio) (1966)
La leggenda di Jesse James (Serie TV, 1 episodio) (1966)
La grande vallata (Serie TV, 2 episodi) (1967)
Il grande teatro del West (Serie TV, 1 episodio) (1967)
Combat! (Serie TV, 1 episodio) (1967)
Ovest selvaggio, regia di Richard Compton - miniserie TV (1980)
Stark - Luci sfolgoranti, regia di Rod Holcomb (Film TV) (1985)
Stark - Immagine allo specchio, regia di Noel Nosseck (Film TV) (1986)
Santabear's High Flying Adventure, regia di Michael Sporn e Robert Marianetti (Voce) (Film TV) (1987)
Saturday Night Live (Serie TV, 1 episodio) (1990)
Un gioco pericoloso, regia di Roger Young (Film TV) (1991)
The Heart of Justice, regia di Bruno Barreto (Film TV) (1992)
Nails - Un poliziotto scomodo, regia di John Flynn (Film TV) (1992)
Witch Hunt - Caccia alle streghe, regia di Paul Schrader (Film TV) (1994)
Dennis Hopper: L.A. Blues, regia di Henning Lohner (1995)
Sansone e Dalila, regia di Nicolas Roeg (Miniserie TV) (1996)
The Making of 'Super Mario Brothers', regia di Deborah Attoinese (1997)
Justice, regia di Richard J. Lewis (1999)
Giasone e gli Argonauti, regia di Nick Willing (Miniserie TV) (2000)
The Groovenians, regia di Jordan Reichek (Voce) (2002)
24 (Serie TV, 5 episodi) (2002)
L'incendiaria, regia di Robert Iscove (Film TV) (2002)
Flatland (Serie TV, 8 episodi) (2002)
Suspense, regia di David Koepp (Film TV) (2003)
The Last Ride, regia di Guy Norman Bee (Film TV) (2004)
Las Vegas (Serie TV, 1 episodio) (2004)
E-Ring (Serie TV, 23 episodi) (2005-2006)
Crash (Serie TV, 26 episodi) (2008-2009)