Biografia
Attrice proveniente da una 'galassia lontana', Hollywood trasformò Carrie Fisher nella principessa Leila delle "Guerre Stellari" del 1977, legando per sempre il suo nome alla saga più 'spaziale' di tutti i tempi.
Carrie Fisher, attrice 'stellare' e 'Charlie's Angel'
(Beverly Hills, 21 ottobre 1956 – Los Angeles, 27 dicembre 2016)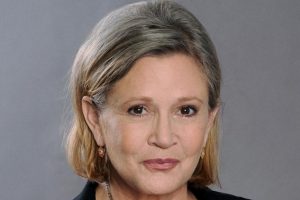 Attrice, sceneggiatrice e scrittrice, Carrie Fisher nasce a Beverly Hills il 21 ottobre 1956.
Figlia di due artisti, il cantante Eddie Fisher e l'attrice Debbie Reynolds, è cresciuta con suo fratello e le sue due sorelle, tutti e tre attori. Quando Carrie Fisher ha solo due anni, il padre lascia la famiglia per sposare Elizabeth Taylor.
Fin da piccola il desiderio principale di Carrie è quello di diventare famosa e seguire le orme dei genitori. Comincia a lavorare a Las Vegas, seguendo le trasferte della madre, fino a quando non ottiene la parte di "Irene" (1973) in un musical di Broadway.
Le "Guerre Stellari" di Carrie Fisher, la principessa Leila
Dopodiché, volendo intraprendere seriamente questa carriera nel mondo dello spettacolo, la Fisher si iscrive alla Central School of Speech and Drama di Londra, in cui rimane iscritta per 18 mesi. Il debutto al cinema è con la commedia "Shampoo" (1975) di Hal Ashby, con Warren Beatty, Julie Christie e Goldie Hawn. Ovviamente il successo internazionale arriva grazie al ruolo di Leila nella saga di "Guerre Stellari" (1977) di George Lucas.
Nel 1980 seguono altri due pellicole di successo: "Guerre Stellari – L'Impero colpisce ancora" e "The Blues Brothers". Segue un periodo buio, causato dall'abuso di droghe.
A soli 24 anni viene diagnosticato a Carrie Fisher un disturbo bipolare, seguito da altri problemi di salute come una overdose all'età di 28 anni e un esaurimento nervoso.
Carrie Fisher: i problemi personali che arresteranno la carriera
Nel 2010 ha anche dichiarato di aver cominciato ad abusare di alcool e droga sui set hollywoodiani, soprattutto quando volava tra gli Jedi. Nonostante le difficoltà è riuscita comunque a partecipare a diversi lungometraggi tra cui: "Il ritorno dello Jedi" (1983), "Hannah e le sue sorelle" (1985), di Woody Allen, "Harry ti presento Sally" (1989), "Hook – Capitan Uncino" (1991) e il commovente "This is My Life" (1992).
L'attrice, nonostante i ruoli più importanti siano arrivati negli anni '70, continua a far piccole apparizioni in grandi produzioni come "Austin Powers: il controspione" (1997), "Scream 3" (2000) e "Charlie's Angels più che mai" (2003).
Tra film per la tv e scrittura
Nel 2008 partecipa alla commedia corale femminile "The Women" e alla pellicola comica "Fanboys", mentre nel 2009 la troviamo in "Patto di sangue", remake del film del 1983 "Non entrate in quel collegio".
Negli anni successivi si dedica prevalentemente a film per la tv, tra i quali "It's Christmas, Carol!" (2012), pellicola fantasy di Michael Scott. Mentre torna al cinema, nel 2014, con "Maps to the Stars" di David Cronenberg. Nel 2015, l'attrice è tornata nei panni della principessa Leila, in "Star Wars Episodio VII: Il risveglio della forza", diretto da J. J. Abrams.
Accanto al lavoro di interprete, Carrie ha trovato anche il tempo di dedicarsi ad una sua grande passione: la scrittura, riuscendo a pubblicare "Cartoline dall'inferno", la sua autobiografia da cui è tratto anche l'omonimo film.
Dopo essere stata colpita da un infarto il 23 dicembre del 2016, Carrie Fisher, nonostante il pronto intervento dei medici, non è riuscita a sopravvivere e si è spenta il 27 dello stesso mese, a 60 anni. Il giorno dopo, la mamma, Debbie Reynolds è stata colta da un ictus, che ne ha causato la morte poche ore dopo.
Tiziano Filipponi
Filmografia
Carrie Fisher Filmografia – Cinema e tv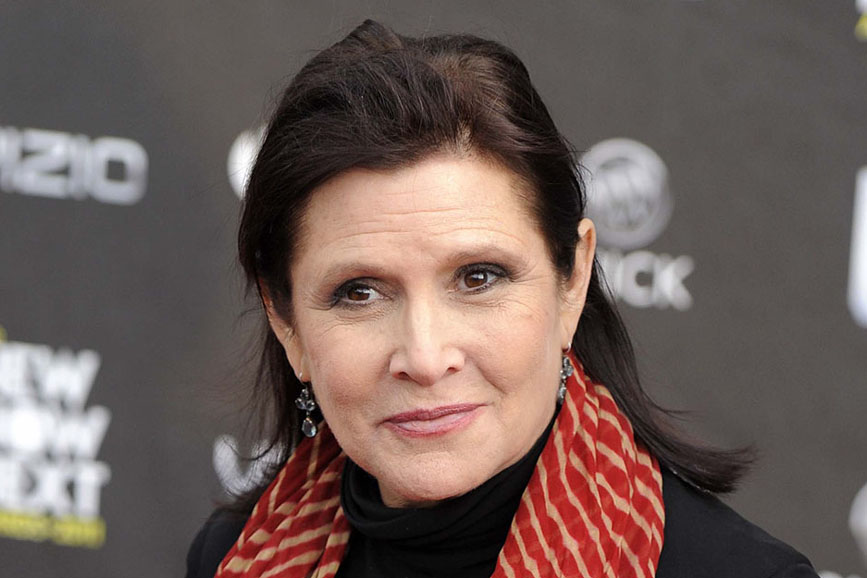 A Visit with Debbie Reynolds (Cortometraggio) (1959)
Debbie Reynolds and the Sound of Children, regia di Marc Breaux (Film TV) (1969)
Shampoo, regia di Hal Ashby (1975)
Guerre stellari, regia di George Lucas (1977)
Come Back, Little Sheba, regia di Silvio Narizzano (Film TV) (1977)
Ringo, regia di Jeff Margolis (Film TV) (1978)
Leave Yesterday Behind, regia di Richard Michaels (Film TV) (1978)
The Star Wars Holiday Special, regia di Steve Binder e David Acomba (Film TV) (1978)
Guerre stellari – L'Impero colpisce ancora, regia di Irvin Kershner (1980)
The Blues Brothers, regia di John Landis (1980)
Sotto l'arcobaleno, regia di Steve Rash (1981)
Laverne & Shirley (Serie TV 1 episodio) (1982)
Guerre stellari – Il ritorno dello Jedi, regia di Richard Marquand (1983)
Faerie Tale Theatre (Serie TV 1 episodio) (1984)
La Garbo dice, regia di Sidney Lumet (1984)
Frankenstein, regia di James Ormerod (Film TV) (1984)
L'uomo con la scarpa rossa, regia di Stan Dragoti (1985)
George Burns Comedy Week (Serie TV 1 episodio) (1985)
Happily Ever After, regia di Bill Melendez e Steven Cuitlahuac Melendez (Film TV) (1985)
From Here to Maternity, regia di Tom Schiller (Cortometraggio TV) (1985)
Hannah e le sue sorelle, regia di Woody Allen (1986)
Hollywood Vice Squad, regia di Penelope Spheeris (1986)
Liberty, regia di Richard C. Sarafian (Film TV) (1986)
Disneyland (Serie TV 1 episodio) (1987)
Storie incredibili (Serie TV 1 episodio) (1987)
Paul Reiser Out on a Whim, regia di Carl Gottlieb (Film TV) (1987)
Donne amazzoni sulla luna, registi vari (1987)
The Time Guardian, regia di Brian Hannant (1987)
Appuntamento con la morte, regia di Michael Winner (1988)
L'erba del vicino, regia di Joe Dante (1989)
Seduttore a domicilio, regia di Joan Micklin Silver (1989)
Two Daddies? Bill Melendez e Steven Cuitlahuac Melendez, regia di Carl Gottlieb (Film TV) (1989)
Sono morta e vi ammazzo, regia di Tim Kincaid (1989)
Harry ti presento Sally, regia di Rob Reiner (1989)
Trying Times (Serie TV 1 episodio) (1989)
Sweet Revenge, regia di Charlotte Brandstrom (1990)
Scappatella con il morto, regia di Carl Reiner (1990)
Va all'inferno Fred, regia di Ate de Jong (1991)
Bolle di sapone, regia di Michael Hoffman (1991)
Hook – Capitan Uncino, regia di Steven Spielberg (1991)
This Is My Life, regia di Nora Ephron (1992)
Frasier, (Serie TV 1 episodio) (1995)
Present Tense, Past Perfect, regia di Richard Dreyfuss (Cortometraggio TV) (1995)
Austin Powers – Il controspione, regia di Jay Roach (1997)
Gun (Serie TV 1 episodio) (1997)
Dr. Katz, Professional Therapist (Serie TV 1 episodio) (1998)
It's Like, You Know… (Serie TV 1 episodio) (1999)
Scream 3, regia di Wes Craven (2000)
Famous, regia di Griffin Dunne (2000)
Sex and the City (Serie TV 1 episodio) (2000)
These Old Broads (Serie TV 1 episodio) (2001)
Heartbreakers – Vizio di famiglia, regia di David Mirkin (2001)
Jay & Silent Bob… Fermate Hollywood!, regia di Kevin Smith (2001)
A Nero Wolfe Mystery (Serie TV 2 episodi) (2002)
A Midsummer Night's Rave, regia di Gil Cates Jr. (2002)
Charlie's Angels – Più che mai, regia di McG (2003)
Wonderland – Massacro a Hollywood, regia di James Cox (2003)
Good Morning, Miami (Serie TV 1 episodio) (2003)
Stateside – Anime ribelli, regia di Reverge Anselmo (2004)
Jack & Bobby (Serie TV 1 episodio) (2004)
Undiscovered, regia di Meiert Avis (2005)
Smallville (Serie TV 1 episodio) (2005)
Romancing the Bride, regia di Kris Isacsson (Film TV) (2005)
I Griffin (Serie TV) (Voce) (2005-2014)
Friendly Fire, regia di Michele Civetta (Video) (2006)
Suffering Man's Charity, regia di Alan Cumming (2007)
Cougar Club, regia di Christopher Duddy (2007)
Odd Job Jack (Serie TV 1 episodio) (2007)
Weeds (Serie TV 1 episodio) (2007)
Side Order of Life (Serie TV 1 episodio) (2007)
30 Rock (Serie TV 1 episodio) (2007)
The Women, regia di Diane English (2008)
Robot Chicken: Star Wars Episode II, regia di Seth Green (Cortometraggio TV) (Voce) (2008)
White Lightnin', regia di Dominic Murphy (2009)
Fanboys, regia di Kyle Newman (2009)
Patto di sangue, regia di Stewart Hendler (2009)
Entourage (Serie TV 1 episodio) (2010)
Family Guy Presents: It's a Trap, regia di Peter Shin (Video) (Voce) (2010)
Wright vs. Wrong, regia di Andy Fickman (Film TV) (2010)
A Child's Garden of Poetry, regia di Amy Schatz (Film TV) (Voce) (2011)
One Side Conversation, regia di Michael Conroy, (Cortometraggio) (2011)
It's Christmas, Carol!, regia di Michael Scott (Film TV) (2012)
Maps to the Stars, regia di David Cronenberg (2014)
Star Wars: Il risveglio della Forza, regia di J. J. Abrams (2015)