Regia: Rupert Sanders
Cast: Scarlett Johansson, Michael Pitt, Michael Wincott, Juliette Binoche, Pilou Asbæk, Kitano Takeshi, Chin Han, Christopher Obi, Joseph Naufahu, Kaori Momoi, Yutaka Izumihara, Tawanda Manyimo
Genere: Fantascienza, Azione, Colore
Durata: n/d
Produzione: USA, 2017
Distribuzione: Universal Pictures
Data di uscita: 30 Marzo 2017, USA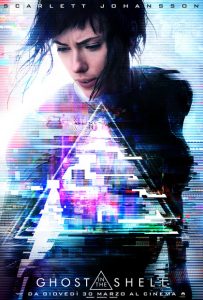 "Ghost in the Shell" si basa sull'omonimo manga cyberpunk di Masame Shirow, adattato in due lungometraggi animati realizzati proprio per il grande schermo e diretti da Mamoru Oshii.
Il film narra le vicende di Major Kusanagi, agente speciale il cui corpo è stato interamente sostituito da protesi artificiali, unico nel suo genere, a capo della task force Section 9. Questa è un'organizzazione antiterroristica che vigila nel Giappone del futuro principalmente sui crimini informatici e tecnologici, attraverso agenti minuti di impianti cibernetici, sebbene si differenzino da Major poiché mantengono il loro corpo originale.
Mentre l'agente è incaricata di fermare i criminali più pericolosi ed estremisti, la Section 9 si confronta con un temerario nemico il cui obiettivo è quello di distruggere tutti i progressi fatti nel campo della cyber tecnology della Hanka Robotics.
Al di là della spettacolarità insita sia nel manga che nella sua trasposizione cinematografica, co-protagoniste sono anche riflessioni esistenziali legate al rapporto (indissolubile) tra umanità e tecnologia e all'inevitabile progressiva fusione tra le due realtà.
Ghost in the Shell: un foltissimo cast e un 'demiurgo' d'eccezione
Alla regia ritroviamo Rupert Sanders, famoso per aver diretto "Biancaneve e il Cacciatore", mentre alla sceneggiatura ci sono Bill Wheeler (Il fondamentalista riluttante) e Jonathan Herman (Straight Outta Compton). Il cast è composto da nomi molti noti del panorama cinematografico, a partire da Scarlett Johansson (nei panni di Major), Michael Pitt, Takeshi Kitano (Daisuke Aramaki), Juliette Binoche (Dr. Ouelet).
I membri della Section 9 sono interpretati da Chin Han, Danusia Samal, Lasarus Ratuere, Yutaka Izumihara e Tuwanda Manyimo.
La produzione del film è nelle mani della Dreamworks e dell'onnipresente 'demiurgo' Steven Spielberg, grande fan del manga.