La celebre cerimonia di MTV dedicata al cinema si rinnova: insieme ai film si aggiungono le serie TV. La nuova edizione degli MTV Movie & TV Awards 2017 ha riunito le star più amate del momento per consegnare e ricevere gli originali e iconici popcorn di MTV.
MTV Movie & TV Awards 2017: i vincitori della nuova edizione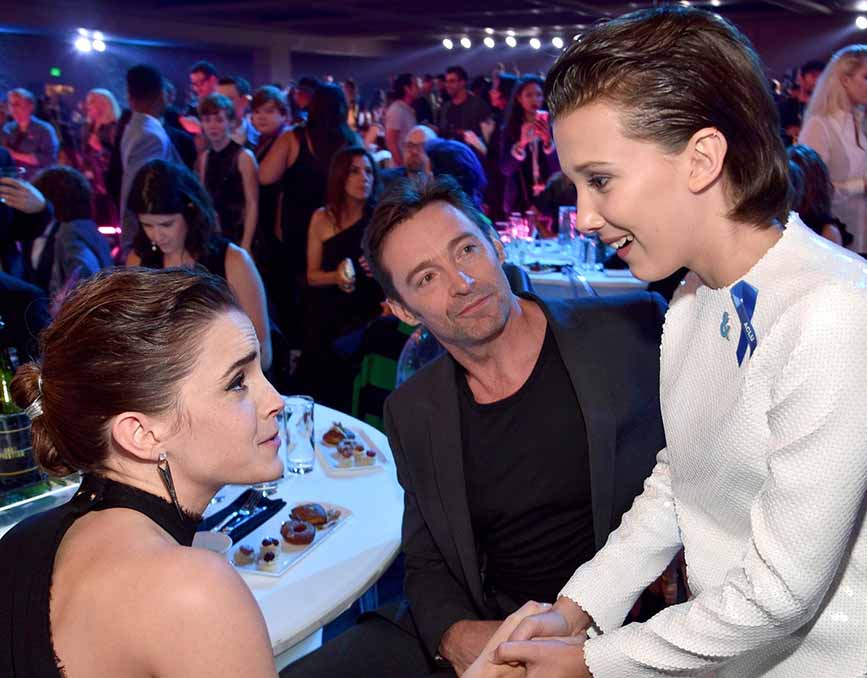 L'evento di MTV si è sempre distinto per l'originalità delle proprie categorie. Dal classico Miglior bacio fino alle novità, come il Miglior Trend che raccoglie i momenti più iconici degli ultimi mesi.
Gli MTV Movie & TV Awards 2017, condotti dall'attore comico Adam Devine, è anche un trampolino di lancio per molte anteprime. Durante la serata c'è stata l'occasione di presentare in esclusiva nuove clip tratte da "Spider-man: Homecoming" e l'atteso remake di "IT". Tra i momenti più emozionanti, come previsto, c'è stato il premio a "Fast & Furious" per l'impatto che ha avuto sulla sua generazione.
Ecco tutti i vincitori degli MTV Movie & TV Awards 2017:
GENERATION AWARD
Fast and Furious franchise
Film dell'anno
La Bella e la Bestia
Get Out – Scappa
Logan
Rogue One: A Star Wars Story
17 anni (e come uscirne vivi)
Miglior attore/attrice in un film
Miglior duo
Josh Gad e Luke Evans, La Bella e la Bestia
Brian Tyree Henry e Keith Stanfield, Atlanta
Hugh Jackman e Dafne Keen, Logan
Daniel Kaluuya e Lil Rel Howery, Get Out – Scappa
Adam Levine e Blake Shelton, The Voice
Martha Stewart e Snoop Dogg, Martha & Snoop's Potluck Dinner Party
Serie dell'anno 
Atlanta
Game of Thrones
Insecure
Pretty Little Liars
Stranger Things
This Is Us
Miglior attore/attrice in una serie TV
Miglior bacio
Miglior cattivo
Allison Williams – Get Out – Scappa
Demogorgon – Stranger Things
Jeffrey Dean Morgan – The Walking Dead
Wes Bentley – American Horror Story
Miglio conduttore  
Ellen DeGeneres – The Ellen DeGeneres Show
John Oliver – Last Week Tonight With John Oliver
RuPaul – RuPaul's Drag Race
Samantha Bee – Full Frontal With Samantha Bee
Trevor Noah – The Daily Show
Miglior documentario
13TH
I Am Not Your Negro
O.J.: Made in America
This Is Everything: Gigi Gorgeous
TIME: The Kalief Browder Story
Miglior talent show   
America's Got Talent
MasterChef Junior
RuPaul's Drag Race
The Bachelor
The Voice
Miglior performance in una commedia
Adam Devine – Workaholics
Ilana Glazer and Abbi Jacobson – Broad City
Lil Rel Howery – Get Out – Scappa
Seth MacFarlane – I Griffin
Seth Rogen – Sausage Party
Will Arnett – The LEGO Batman Movie
Miglior eroe
Miglior momento strappalacrime
Game of Thrones – La morte di Hodor
Grey's Anatomy – Meredith dice ai suoi figli della morte di Derek
Io prima di te – Will dice a Louisa che non può restare
Moonlight – Paula dice a  Chiron che gli vuole bene
This Is Us – Jack e Randall a Karate
Nuova generazione
Chrissy Metz
Daniel Kaluuya
Issa Rae
Riz Ahmed
Yara Shahidi
Miglior storia americana
Black-ish
Fresh Off the Boat
Jane the Virgin
Transparent
Miglior lotta contro il sistema
Get Out
Loving
Luke Cage
Mr. Robot
Miglior trend (Presented by Time Inc.'s INSTANT)
"Sean Spicer Press Conference" feat. Melissa McCarthy – Saturday Night Live (NBC)
"Lady Gaga Carpool Karaoke" – The Late Late Show with James Corden (CBS)
"Cash Me Outside How Bout Dat" – Dr. Phil (CBS)
"Run The World (Girls)" Channing Tatum and Beyonce – Lip Sync Battle (SPIKE)
"Wheel of Musical Impressions with Demi Lovato" – The Tonight Show Starring Jimmy Fallon (NBC)
Winona Ryder's Winning SAG Awards Reaction – 23rd Annual SAG Awards (TNT)
BEST MUSICAL MOMENT (Powered by truth®)
"Beauty and the Beast" – Ariana Grande and John Legend
"Can't Stop the Feeling" – Justin Timberlake – Trolls
"How Far I'll Go" – Auli'i Cravalho – Moana
"City of Stars" – Ryan Gosling and Emma Stone – La La Land
"You Can't Stop" The Beat – Ensemble – Hairspray Live!
"Be That As It May" – Herizen Guardiola – The Get Down
"You're the One That I Want" – Ensemble – Grease: Live
MTV Movie & TV Awards 2017: un'edizione attenta al sociale
Gli MTV Movie & TV Awards 2017 hanno saputo giocare bene le loro carte con le vittorie. Discorsi sociali, tante star che hanno ricordato l'importanza della rappresentazione femminile. Dalla vittoria della giovanissima Millie Bobby Brown, fino al miglior bacio vinto dai protagonisti di "Moonlight". Anche gli MTV & TV Movie Awards 2017 si sono adattati al clima di ribellione americano, appoggiando con orgoglio la diversità.
Paola Pirotti
08/05/17