Titolo originale: It: Chapter 2
Regia: Andrés Muschietti
Cast: Jessica Chastain, Bill Skarsgård, James McAvoy, Bill Hader, Jay Ryan, Andy Bean, James Ransone, Isaiah Mustafa, Xavier Dolan, Will Beinbrink, Jess Weixler, Teach Grant.
Genere: Horror, colore
Durata: n/d
Produzione: USA, 2019
Distribuzione: n/d
Data di uscita: n/d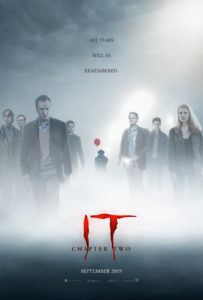 "It: Capitolo 2" è il sequel di uno degli horror più famosi nella storia del cinema mondiale "It". Le terrificanti vicende della storia si svolgono in una piccola cittadina americana dove tutti si conoscono sin dall'infanzia, questa cosa riguarda anche i protagonisti della pellicola che nel primo capitolo si sono cimentati nella sconfitta di Pennywise, il malvagio clown che terrorizza la città da sempre, apparendo ogni ventisette anni per far sparire nel nulla i bambini.
Anche questa volta le vicende si svolgono a distanza di ventisette anni dal giorno in cui si è conclusa la storia del primo capitolo. I protagonisti del precedente film, ormai adulti, conducono la loro vita con tranquillità, finché un giorno non ricevono una chiamata allarmante dalla loro città natale che li costringe a riunirsi per affrontare ancora una volta l'incubo della loro infanzia.
It: Capitolo 2: il sequel del film horror che ha fatto la storia
Il regista del secondo capitolo sulla storia del clown che fa paura a tutto il mondo è Andrés Muschietti, noto per aver lavorato anche sul primo film tratto dal romanzo di Stephen King "It", la pellicola in questione ha incassato 700.381.748 dollari, diventando così il film horror con maggiori incassi nella storia del cinema.
Le riprese di "It: Capitolo 2" sono iniziate nell'estate del 2018, ma secondo una dichiarazione di Bill Skarsgård, l'attore che veste i panni di Pennywise, prima di iniziare a girare la scene principali, la produzione ha realizzato un flashback in cui spiega l'origine del clown demoniaco.
Il cast, questa volta, è composto da attori adulti come Jessica Chastain ("Molly's Game") nel ruolo di Beverly, James McAvoy ("Split") in quello di Bill, Bill Hader ("Barry") in quello di Richie, Jay Ryan ("Beauty and the Beast") di Ben e Isaiah Mustafa ("Shadowhunters: The Mortal Instruments") nei panni di Mike.